Briares supply chain with that of its vendor's has ensured efficient flow of product and information across the chain. All our products are sourced from vendors who practice quality and food safety practices
Recipient of go global Awards 2021
EXPORT INNOVATION
EXPORT INNOVATION
EXPORT INNOVATION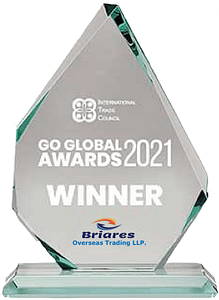 Briares Overseas Trading, co-founded by Mr. Jeevithesha Shetty MA, MBA and Mr. Kare Prabhakar Gupta Naveen Kumar in 2004 was incorporated with the Ministry of Commerce Affairs as LLP in April 2020. The company has a wide experience of Sourcing and Marketing for over 16 years.
All our products are sourced from vendors who practice quality and food safety practices such as HACCP, BRC, IFS, ISO 22000, and BIS.
When Demand sags, Inventory can all too easily pile up and put pressure on the financial performance of the company. Briares procurement team is continuously changing and adapting the Procurement process depending on the market condition and Government policies, which have impact over Business.
Once the product is fully packed and stored in warehouse, it is also ready for shipment.
The whole process and material used for packaging by our company provides durability to the product while being stored and transported. Our connections and experience of shipping by all available transportation modes, by rail, by road, by air, by sea and any other means possible ensures that the consignment is safely delivered at the final destination within the specified time period. Our wide connections worldwide with C&F agents, as well as our extremely professional and dedicated documentation team ensures that our clients have the minimal of issues while procuring a product from us.
To effectively serve business associates and the society at large, in the process create wealth and value for stakeholders and the extended BRIARES family. We adapt Technology systems that leverage Artificial Intelligence and Process Automation for enhanced operating efficiencies.
Briares Overseas Trading LLP
Understand and adapt
to customer's needs in continually ever-changing markets
Constantly innovating
every action to bring out the best solutions
Collaborate with customers /suppliers
to maximise potential and ability to compete in challenging markets
Support customers
with tools to manage risk
Shipping across some of the best products that are nurtured and taken care of by us.
Coffee is darkly coloured, bitter, slightly acidic and has a stimulating effect in humans, primarily due to its caffeine content.
Areca nut is used widely in India and South Asia as: a masticator for chewing purposes, vegetable, medicine, stimulant, tannin and so forth.
The coconut tree is a member of the palm tree family. Coconuts are known for their versatility of uses, ranging from food to cosmetics.
Onions are cultivated and used around the world. As a food item, they are usually served cooked, as a vegetable or part of a prepared savoury dish,
The potato is a root vegetable native to the Americas. Potatoes were introduced to Europe from the Americas in the 16th century
We are amid the prominent Exporters, Importers and Suppliers of Non-Basmati Rice in Karnataka, India with quality checked.